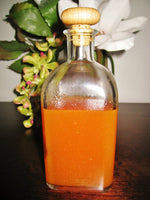 SIMPLY PERFECT FRUIT PUREES AND A GIVEAWAY!
See original Blog by Sara Kotikolo for pictures and details.


There is a small and interesting company in Kontiolahti called Spices Chef. They prepare organic food produce such as 100% fruit purees, spices, spice mixes and vegan broths. Company's CEO Pramod Jayaprakash is making sure all the products are high quality, organic and support sustainable development. And these purees sure taste like the real thing – rich, real and fresh. You interested? Keep reading, because there is a great giveaway coming up!
Spices Chef has a vision of high quality, environmentally friendly and allergen free groceries. Despite the name, the company does not focus purely on spices, but prepares also herbs, teas, meat subtitutes and fruit purees, which are my main focus on this post. Because Spices Chef's fruit purees are the best I have ever tasted! The mango puree actually tastes like real mango and papaya like papaya. The flavour is distinct, clean and fresh, and the 3l packages lasting, since even a small amount at once will do.
There are tons of ways to use the purees and they taste simply amazing. The ingredients consist only 100% of pure fruit, which is why the mango puree tastes like the ones in the tropics. Spices Chef uses seasonal mangoes Alphonso and Kesar, which is why their puree has a richer flavor than of those grown throughout the year. After trying these wonderful purees the other ones taste watery and mild.
I first got acquainted with Spices Chef at Lautasella fair in 2018. On the same year the company opened a small factory in Kontiolahti and started to develop their work together with Aalto University and North-Karelia ELY center. Next the company plans to focus on online marketing and internationalization. Spices Chef has recently opened an online store, where you can easily order the products straight to your door. You can find Spices Chef's homepage and webstore here. Their Facebook page is here.
After visiting the Lautasella fair again this year and trying some more of these delicious purees, I wanted to spread the word to my readers. After talking to Pramod I was surprised how comprehensive their assortment already is. All the products are made with quality ingredients and prepared making sure they taste like they should. Spices Chef has been getting recognition already, since they were one of the finalists for European Organic Food Innovation Award. You can see their entry-video here.
At the moment I'm especially excited to use the purees to feed my own baby. It's wonderful to be able to feed my child with nourishing, clean, healthy food she really enjoys. Both mango and papaya are a great addition to a baby's porridge or smoothie, and work as a sticky rice sauce, too. The 3l package stays good in the fridge for at least a month, so there's plenty of time to use it – especially when adding some to pretty much everything, like I do.
Add some puree to yoghurt, oatmeal, pudding, overnight oats, fruit salad, ice cream and smoothies. And the ideas don't stop there. I've fed them to my baby straight from the box just like that. Mango puree works great as a cake filling and you can also make a cheesecake with it. Papaya on the other hand is sourer, which makes it perfect for salty foods, also.
In addition to be being delicious, these organic fruit purees are also very healthy. Mango helps to boost the immune system and digestion, and has plenty of vitamin A, B and C. Papaya is low FODMAP and good for weight control. Papaya also helps the body to get rid of water and waste, which is why it's a popular fruit during fasting.
Here are some of my favorite recipes I've loved to prepare with the purees.
RECIPES ON THE GO!
Quick mango mousse
2,5dl coconut cream
1tbsp agave syrup
1dl mango puree
1tbsp coconut oil
Keep the coconut cream cold overnight or at least 15 minutes in the freezer.
Whisp together cold coconut cream and agave syrup, till they form a thick cream-like texture.
Melt the coconut oil in hot water and mix together with mango puree. Mix together with coconut cream by hand.
Let the mousse thicken in the fridge for at least 30 minutes. If the wait is too long, you can naturally devour it right away.
Mango-papaya fruit leather
340g mango puree
1dl papaya puree
Spread mango puree as eavenly as possible to a baking sheet. Drain papaya puree all over the sheet and even out a little bit, but not completely mixed.
Let the sheet dry in 80 degree convection oven for 2-3 hours, until its surface feels dry. If you don't have a convection oven, leave the oven door ajar.
Roll the sheet and cut to pieces using scissors or a sharp knife.
Store the pieces in an airtight container, so that they stay soft and chewy.
Fruit leather keeps well in room temperature, but you can also store it in the fridge.
Sticky papaya marinade
2tbsp coconut oil
2,5dl papaya puree
1/2dl maple syrup
1,5dl orange juice
1 lime juiced
1/2tsp smoked paprika
1/2 tsp onion powder
1/4tsp dried ginger
1/4tsp salt
Black pepper
1,5tbsp potato starch
Melt the coconut oil on a pan on low heat. Mix all the other ingredient together and pour the mixture on the pan. Heat quickly and put on low heat.
Let the sauce simmer on low heat for 20 minutes, until it starts to thicken and turn sticky.
Add one diced onion and some protein of your choice and cook till ready. With this marinade all from beans, tofu, pulled oats or shrimps, chicken and pork work great.
Enjoy this lovely sticky papaya sauce with some rice, noodles or even salad.
Papaya gives this marinade a deliciously sweet and sour taste, which makes it perfect for lots of different foods.
Papaya vinaigrette
2,5dl papaya puree
1tbsp fresh ginger
2 garlic gloves
1/4dl lemon juice
3/4dl apple cider vinegar
1/2tsp onion powder
1/4tsp salt
3tbsp olive oil 
Black pepper
Mix all the ingredients together and pour the mixture into a glass jar. Shake a bit before every use.
Store ready vinaigrette in the fridge and use within a few days. This tastes wonderful with  this particular salad! It has kale, parsley, pomegranate seeds and apples. Perfectly fresh and tasty condiment or even main course, when you add some tofu, for example.
Papaya works great in different kind of drink, too – with or without alcohol.
Papaya mocktail
1dl papaya puree
1/2dl pineapple diced
1 orange juiced
1/4tsp dried turmeric
1tbsp lemon juice
(1/2dl coconut milk)
(handful of ice)
Mix all the ingredients smooth on a blender or hand mixer. The ice is not a must, but it does make this drink especially refreshing. Similarly coconut milk is a delicious option, if you feel like having a creamier drink.
If you wish to add some alcohol, try some vodka, rom or tequila. Papaya's taste goes with a lot. If you add alcohol, some coconut sugar or honey might be in place, too.
I didn't add any smoothie recipes, because I wanted to share some different kind of options this time. But of course these purees are great in smoothies. When adding some puree you won't necessarily even need other fluid.
Now you have a wonderful opportunity to try Spices Chef's organic fruit purees, because I give away three delicious packages of purees!

1. 1x3l organic papaya puree
2. 1x340g organic mango puree
3. 1x340g organic mango puree

You can enter by commenting below how you prefer to use fruit purees. Remember to leave an e-mail address, where I can contact you.

You can enter until Wednesday 9.10. 6pm!
I look forward to hearing some of your ideas on how to use these wonderful purees!