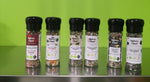 SPICES CHEF further improved the product family, which was selected as Finalist in the EU Organic Food Innovation Award in 2019.
The main improvements are in the quality of ingredients and in presentation of products.
We have used local and organic certified ingredients to the extend possible.
Tarmo, Sonja, Mia worked with enthusiasm to lift the product labels to be more informative and relevant.
The graphics in labels now refer to the main ingredients in the product. Earlier they weren't distinctive enough.
Designs are still influenced by the strong foundation provided by the Pack-Age project at Aalto University.
Labels have comprehensive information about ingredients, food combinations, packaging and recycling.
All-in-all, SPICES CHEF is ready to go to mainstream market with these innovative products - humble and proud!
NOW & BEFORE
The development phases are over - production for sales in good flow
More updates to come .... :)