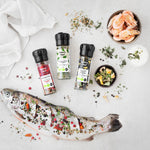 Enemmän makua ja vähemmän suolaa was our starting recipe for creating this product family.  Innovative uses organic wild herbs, wild mushrooms, and wild berries was the excitement behind this product family:
Nokkonen & Malabar Valkopippuri, Luomu
Kantarellit & Tellicherry Mustapippuri, Luomu
Idea: North Karelia Project / Pohjois-Karjala-projekti (1972-1997)
From a food development point of view, idea of this product group was inspired from Pohjois-Karjala project (1972-1997), which promoted alternative diets reducing excessive intake of salt and fat. Even though this public health project was largely successful and globally known, excessive salt consumption has been still an issue.
There can be found many delicious flavours in wild forest just round the backyard. How to combine these familiar tastes with organic flavors from around the world to get ideal gourmet tastes? Answer to this question is our contribution in this product family.
Other important stories behind the product families are: how to support organic certification of wild food ingredients? Most importantly, how to pack products with world class features locally, yet affordable, ticking as many boxes related to sustainability.
As a recognition, this product family was selected for the Final of European Organic Food Innovation 2019.
How to use the products?
What is special about Spices Chef's biomill packaging? How and where to use it? The picture below explains it:


Where are these products available to buy?
K-Citymarkets, K-Supmermarkets in Finland.
Also through our webshop: www.spiceschef.com
⁠
#spiceschef #organictothepeople #spiceblends #organicspices #organic #fairtrade #organicwildfood #wildfood #grilliruokaa #luomumausteet #villiruokaa