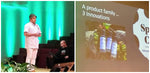 Press release, 2.10.2019
Spices Chef - What kind of innovative and healthy organic food we can offer remembering the objectives of Pohjois-Karjala-projekti 1972 - 1997?

Spices Chef Ltd is a SME located in Kontiolahti, Finland. Slogan of Spices Chef brand is "We Have A Better Story To Tell". Our stories are stories of our values and innovations. 
European Organic Food Innovation Award 2019 Final !
For the European Organic Food Innovation Award, Spices Chef presents a product family of organic certified products.

(1) Nettle and Malabar White Pepper - BioMill, 75g, Luomu
(2) Wild and Tellicherry Black Pepper - BioMill, 75g, Luomu
(3) Wild and Naga Chili, Extra Hot - BioMill, 70g, Luomu
Spices Chef brand understands that organic food is a global movement. We actively take part in this movement locally and globally with our innovative and open minded ideas.
The innovation in the above mentioned products are in:

(1) ingredient quality, selection, and blends;
(2) sustainable packaging with bioplastic & BPA free materials;
(3) Safe and easy-to-use.
Idea of the product family: Pohjois-Karjala-projekti
The idea for this product family came from recollecting the objectives of North-Karelia Project (Pohjois-Karjala projekti 1972-1997). It was one of biggest success stories in public health. From a organic food business, we asked questions like: can we create a product family, which consists of more than salt & pepper, exotic yet familiar, and tasty but not so complex. We also wanted the product to meet sustainability standards of organic food in the EU; we also wanted the products to be easy to use in indoor or outdoor food experiences. We are happy with the results!
Organic ingredients:
we had ideas for flavour blends using wild natural ingredients and traditional spices and herbs. But our challenges were how to find organic certified wild ingredients? How to process them to use in a mill where they grind well? LULUme (https://www.metsakeskus.fi/lulume) project helped in identifying areas, which were organic certified. For processing we mainly used freeze drying method, which enabled ingredients to retain their natural properties while possible to mill easily. Organic wild ingredients that we used in product family were: Nettle, Chanterelle, Spruce sprouts, Juniper. Organic spices and herbs we used are: Tellicherry Black Pepper, Malabar Whilte Pepper, Cumin, Ginger, Curry Leaves, Nagachili, Coriander and salt. Idea was to blend world of organic tastes without prejudices giving value for taste, quality and affordability.
Sustainable packaging:
we wanted organic products packed also considering environment and health. Spices Chef's sustainable packaging idea was taken for a case study in the Pack-Age project of Aalto University. Six students, their teachers and industry specialists together worked in our packaging project. The project paid off. We also found a way the packaging designs can be commercially made. The BioMills that we used for packaging this product family were bioplastic mills made from sugarcane substances. The body is premium glass jar. The mill is also BPA Free, which is otherwise a health hazard. That is, if the mills are poor quality, there is a danger that small pieces of the mills itself slowly start to get milled into the food.
Easy of use and safety:
we wanted the products to be easy to use for both in indoor kitchen and outdoor cooking. In both uses, we wanted the products are easy to use and safe.
We want our customers feel and realize that they are part of a small change by choosing our sustainable products. All aspects of the products are well-thought out from aesthetic, quality and affordability points of views. The products are presentable in any context. They stand cool.
Commercially we are ready to make the products for wider circulation. It will encourage foraging of wild natural products. We want to be part of the movement where value added uses of local and wild natural ingredients are appreciated.
Organic To The People is our passion and mission!
More information: https://proluomu.fi/innovaatiokilpailun-finaali-luomuelintarvikepaivassa/