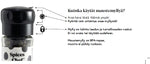 5 Things to know about Spices Chef's spice mills


There is a fascinating development story behind the spice mills of Spices Chef brand. Some features of the mill are counter-intuitive yet innovative and responsible. Those of you who have already used one of the spice mills from us, this story will reveal more reasons to like it. Those of you who haven't tried a mill from Spices Chef yet, watch Claudio's video first, and read the article below, so that you understand the thinking behind the spice mill and how to use it.
Welcome to watch Claudio explaining how the mill works and continue from there reading the article:
Claudio explains how to use Spices Chef's spice mills! ⁠Claudio kertoo kuinka käyttää Spices Chefin masutemyllyä!⁠
5 features of the spice mill:
⁠
1. First criterion was quality of sharpness and milling consistency:
Idea was that the spice mill should be chef-quality. Imagine slicing a tomato with a sharp chef knife vs. a regular kitchen knife? It will be totally different quality experiences. We wanted to give chef quality spice milling experience in home kitchens.  Also consistent milling experience from start to end.

2. Second criterion was sustainability of materials:
We wanted the spice mills to be made with sustainable materials. So we chose, premium glass jar + plant-based bioplastic mill with an extra BPA-Free quality. Unlike many other mills in the market, which can powder itself through the milling process, Spices Chef's mill won't grind itself into food. No plastic particles of the milling system get powdered and fall into food.⁠ These are in fact innovations in spice mills. You don't find many such high quality mills in the market as of now. Another fact to remember is that just because the mill is made of bioplastic, it is not fragile. It needs to be used correctly as Claudio showed in the video.

3. Third criteria was designed for safety and quality preservation:
We wanted the spice mill design to have an inbuilt protection system to keep the product fresh inside, as well as, safe throughout the supply chain until it reaches in a home kitchen. Thanks to the design, no additional plastic was needed to keep the mills protected at the shop shelf. The quality will remain the same when mills are in home kitchen.

4. Fourth criteria was recycling:
Initially we contacted PALPA (rewarding system for recycling in Finland) to ask can we join in Pantti system for our spice jars as a reward for customers for recycling the mills responsibly. PALPA replied that only packaging materials used for beverage products are included in the Pantti system as of now. We contacted recycling company RINKI and research organization VTT Finland for guidance with how to communicate responsible recycling of the spice mills. The recommendation was that the spice mill goes to the glass waste recycling system. ⁠This is calculated by the weight of main packaging material, which is glass in the spice mill. The recycling machines have systems that separate glass and bioplastic during the separation and melting stages. It is not necessary to manually separate glass and bioplastic.To read more, please visit RINKI's page on glass waste recycling.
It is also good to remember that no specific recycling bins are available  at the moment for bioplastic materials. Probably in the future!

5. Fifth criteria was one-time use.
We needed some courage to choose this counter-intuitive option. That is, how can a non-refillable spice mill be sustainable? Read the facts below. You may then agree with us :) First of all, no brands in the market highlight that the mills they sell with spices inside can be reused. Reason is that plastic spice mills sold in supermarkets are meant for one-time use only. Even if they can be opened and refilled, it is own risk. As explained before, mills which are meant for one-time use do not have the milling power to be used for milling again and again. In worst case, grinder inside the mills can potentially start grinding itself and the plastic powder can get added to food. A simple test to understand this scenario is by observing the sound and quality of milling itself. If you don't experience that a mill giving the same milling sound experience in the beginning to the end, it is highly  likely that it's because the mill has started to loose it's 'teeth' little bit little. Spices Chef didn't want customers to experience plastic particles in food. We look at sustainability with responsibility. Resuability is not always sustainable as explained here.

Additionally, if you would like to have reusable high quality mill, we do have such mills in our selection. A great choice would be the OrTwo spice mill with 6 different milling choices.  We also give you a 50g bag of Organic Tellicherry Black pepper free to try with the OrTwo mill.

Hope you enjoyed the video by Claudio and the story behind Spices Chef's spice mills :) Get to know us more from website.