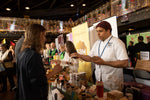 (In English below)
Spices Chef -brändi perustettiin näkemyksellä osallistua maailmanlaajuisiin elintarvikkeiden ruokaketjujen vastuullisiin liikkeisiin. Liityimme Fairtrade International´iin ja Reilu kauppa Suomeen vuonna 2016. Tällä hetkellä tuotemerkillä on yli 10 tuotetta.
Spices Chef-tuotteet tunnetaan ammattimaisen laadukkaista ainesosista, ruokainnovaatioista ja vastuullisista pakkauksista kasvipohjaisissa biomuovimateriaaleissa.
Spices Chef -tuotteita myydään K-Citymarketeissa, K-Supermarketeissa eri puolilla Suomea. Muita myyntikanavia ovat Prisma, paikalliset ruokakaupat kuten Heinolan Heila, ruokaverkostot kuten Luomupiiri & Reko. Teemme yhteistyötä myös hävikkiruokakauppa WeFood Suomen kanssa.
Oma tehtaanmyymälä Kontiolahdessa on auki tiettyinä päivinä. Verkkokauppamme (www.spiceschef.bio) toimittaa tuotteita kaikkialle Eurooppaan.
Ota yhteyttä sähköpostitse tai puhelimitse saadaksesi lisätietoja.
IN ENGLISH
Spices Chef brand was established with a vision to actively take part in global food supply chain and food sustainability movements. We joined Reilu kauppa and Fairtrade Finland in 2016. Currently the brand has over 10 Fairtrade products.
Spices Chef products are known for chef-quality ingredients, food innovations and sustainable packaging with plant-based bioplastic materials.
Spices Chef products are sold in K-Citymarkets, K-Supermarkets across Finland. Prisma, local food shops like Heinolan Heila, food networks like Luomupiiri & Reko are other sales channels. We also cooperate with surplus food movement WeFood Suomi.
Own factory shop in Kontiolahti is open selected days. Our webshop (www.spiceschef.bio) delivers products across Europe.
 Contact us via email or phone for more information.