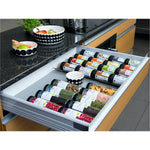 Recycling, avoiding food waste, choosing products from brands that care about sustainability ... these are some of the ways we can touch and experience sustainability in our daily lives. ⁠ ⁠
Picture of organic spices from Spices Chef organized in-well designed home kitchen. ⁠ ⁠
Spices Chef product selection includes almost 23 organic flavours. Enjoy a wide variety of healthy and delicious meals preparations at home. ⁠ ⁠
Did you know that Spices Chef uses plant-based bioplastic packaging? Get to know our story from home page.⁠ ⁠
You can find our products from K-shops near you across Finland. You can also order from our webshop.⁠