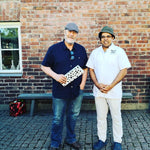 Spices Chef received demands from number of customers to make gift packages for them.

Our new products are getting good appreciation. Distinguished customers like Markku Pölönen found our products interesting was an honor and motivation!
Well wishers and regular customers want to share our delicious products with friends and family members as special gifts. By word of mouth quality of our products are getting known. We thank you for your support!
We have tried a few prototypes for gift packaging. Idea has been that it should be a packaging made with sustainable materials. We also wanted the packaging to be useful for kitchen organizing than only work as a gift wrap. 
To hear advises from experts, we have joined ongoing training program organized by Food From Finland with a special focus on sustainable packaging. Training program is called Boosting Export with Packaging (BEWP).
We aren't shy to show you our first prototype for gift packaging :) Expect improvements from here!

Should you have any suggestions or wishes for gift packaging, let us know! We will certainly try to consider your proposals.
Theme of the gift package(s) that are demanded by customers are: organic spice mills for different seasons, meat-alternative vegan powders set, mill holders for both indoor and outdoor cooking.
We get to work in developing gift packages. Expect that gift products will be ready well before Xmas. You might be able to pre-order as well :)
Greetings from Team Spices Chef !