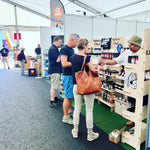 Asuntomessut Loviisassa ovat saaneet tähän mennessä yli 50 000 kävijää. Katso kuva Spices Chef -osastolta
Kahden ja puolen viikon verran aktiivisia messupäiviä on takana, ja kaksi viikkoa on vielä jäljellä. Messut päättyvät 6.8.2023.
Koko messuilmaapiiri on ollut miellyttävä, kävijät ovat ystävällisiä, messuhenkilökunta avuliasta ja näytteilleasettajat innostavia. Sääkin on pysynyt suurelta osin miellyttävänä, alle 25 °C.
Jos et ole vielä käynyt Asuntomessuilla, suunnittele vierailusi pian. Ole hyvä, Spices Chefin verkkosivustolta muutamia hyödyllisiä matkavinkkejä Loviisaan.
Tervetuloa!
Messutiedot: ⁠
Aikataulu: 7.7.–6.8.2023 klo 10-18⁠
Paikka: Kuningattarenranta, Mannerheiminkatu 19, Loviisa.⁠
Liput ja lisätietoja:
https://www.asuntomessut.fi/
⁠
------------
The Housing Fair in Loviisa has had over 50,000 visitors so far. See a picture from the Spices Chef stand
Two and a half weeks of active fair days are behind us, with two weeks remaining. The Fair ends on 6.8.2023.
The whole fair atmosphere has been pleasant, with friendly visitors, helpful fair staff, and mutually inspiring fellow exhibitors. The weather has also stayed mostly pleasant, with temperatures under 25°C.
If you haven't visited the Housing Fair yet, plan your visit soon. You can find a few travel tips to reach Loviisa on Spices Chef's website.
Welcome!
Exhibition information.
Schedule: 7.7.-6.8.2023 from 10-18
Place: Kuningattarenranta, Mannerheiminkatu 19, Loviisa.
Tickets and more information:
https://www.asuntomessut.fi/
#asuntomessut
#asuntomessut2023
#asuntomessutloviisassa
#kuningattarenranta
#bostadsmässan
#bostadsmässan2023
#bostadsmässanilovisa
#drottningstranden
#loviisalovisa
#spiceschef
##interiordesign
#kitchendesign
#maustekaappi-ideoita
#maustekaappi #Puustelli
#perhe
#koti
#vastuullisuus
#kotikeittiö
#luomu
#sustainabilitymatters
#sustainability
#designfromfinland
#sustainablepackaging
#organicfood
#giftideas
#lahjavinkki  
#vegan
#fairtrade⁠