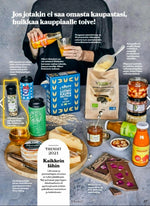 "Yllättävä maustemylly on ihana lahja kokkaavalle ystavalle"⁠
'A surprising spice blend mill, suitable gift for a foodie friend'⁠
Nokkonen & Valkopippuri mylly from Spices Chef has featured in Tredit 2021 selection of products by K-Ruoka. ⁠
The selection was based on innovative taste blend as well as for a sustainable packaging initiative!⁠
Welcome to try Spices Chef products. It is available from K-Citymarkets, K-Supermarkets and from Spices Chef's webshop.⁠
Link to K-Ruoka 1/2021 magazine:
https://issuu.com/ruokakesko/docs/krp0121
⁠
#spiceschef
#k
-ruoka
#K
-Citymarket
#K
-supermarket
#sustainability
#sustainable
#
#innovation
#foodie
#socialinnovation
#foodtech
#terveellinenruoka
#hyvinvointi
#hyväruokaparempimieli
#vegan
#local
#wildharvest
#plantbased
#packagingdesign
#design