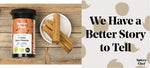 We have a better story to tell about the environmental impact of Ceylon cinnamon!
Spices Chef offers organic and Fairtrade Ceylon cinnamon both in power as well as in whole sticks packaging.
How Ceylon cinnamon is made?
To make Ceylon cinnamon, branches and barks of the cinnamon tree are used. The cinnamon tree will be about 3 years old when it's harvested. For best flavours, as well as for the processes of making Ceylon cinnamon, which involves tedious manual work of peeling cinnamon tree layer by layer, young trees have been used. Almost all part of cinnamon trees can be used as a spice. Very little food waste.
After harvest, usually new cinnamon trees are replanted. In some cases, only part of the tree is cut. Cinnamon is farmed as spice agriculture, not a wild tree.
Environmental impacts of cinnamon production
There have been reports about environmental impacts of cinnamon because the whole trees have to be cut down, causing deforestation. This concern isn't entirely true. Because the reports usually mix up Ceylon cinnamon and Cassia cinnamon or reports do not go into the details of how these two types of cinnamon are made. These two cinnamons are different species and have different life cycles in harvesting and production.
Unlike Ceylon cinnamon, which is cultivated as spice agriculture and replanted, Cassia is usually a big tree of 20-30-40 or more years old. When cassia trees are cut down, because it's not part of regular agriculture, replanting may or may not happen. When it's not replanted it can cause deforestation effects.
To sum up, the concern of deforestation is valid in cassia cinnamon, but not in Ceylon cinnamon, which is spice agriculture.
Usually, only the skin peel of the cassia tree is used as 'cinnamon'. The bark and branches are used as wood. In Ceylon cinnamon the whole branch and bark are peeled into layers and almost alI part of the tree is used. Very little food waste.
In the market there are both cassia cinnamon and Ceylon cinnamon with the name 'cinnamon'. For commercial gains, there might be mixes of these two varieties too.
Clear-cutting of cassia cinnamon vs. industrial felling for wood industry

Cutting down of Cassia cinnamon tree can be possibly compared to industrial feeling of trees for wood industry in terms of size of the tree, and the impact it makes in the surrounding until it's replanted or other ecosystems have taken up the space. But in terms of number of trees cut, birch trees cut for wood industries and ceylon cinnamon or cassia cinnamon trees cut for spice industry, there will be a huge difference.
Quality grades
Spices Chef offers only Ceylon cinnamon produced from organic certified producers and supply-chains.
There are about 5-8 quality grades in Ceylon cinnamon. The best quality Is known as ALBA. To be able to sell ALBA we will have to do a lot of marketing. Because it looks different, and flavour is not that familiar. Sometimes customers have asked us, 'is it really cinnamon?'. Yes it's. We were also not familiar in the beginning of our product research with all of the quality grades of Ceylon cinnamon. Now we have started to make sense of most of the variations in cinnamon. If you are curious to see all the varieties of cinnamon, welcome to visit Spices Chef! We have a small collection of various grades of cinnamons.
The cinnamon that we sell at the moment is C5 grade. It is next best to ALBA quality.
There must be many more things to know about cinnamon. Should you have any additional information about cinnamon, or have questions or suggestions for Spices Chef, please do share. We like to learn details openly than raise only concerns.
Footnote
Consciously, this blog doesn't go into the details of labour and social implications involved in the production of cinnamon. Not that it is not important. But we like to write about it in a fresh language. On another occasion. The usual reports are written from the point of view of 'talking about them' by the conscious few of us, while exposing some bad practices  by bad guys out there.  Certain geographical details are used to convey authenticity of reports. But there is hierarchy in who can tell,what kind of stories, about whom, and who are the audience and who are not? The resources used, the languages and approach used, continue to assume silence from the very subjects and contexts of the concerns raised even in this digital times. Sustainability thinking probably needs fresh approaches and fresh languages.
#spiceschef #ceyloncinnamon #cassiacinnamon #ceylonkanelijauhe #ceylonkaneli #reilukauppa #reilunkaupanviikko #fairtrade #organic #luomu #organictothepeople #foodie #organicfood #giftideas #lahjavinkki #kitchendecor #hyvinvointi #terveellinenruoka #hyväruokaparempimieli #sustainablepackaging #design #interiordesign #kitchendesign #cooking #gifts #vegan #vegetarian ⁠#corporategifts #spiceagriculture