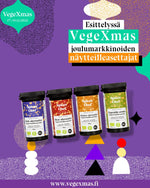 Spices Chef osallistuu VegeXmas-myyntitapahtumaan / Spices Chef participates in the VegeXmas sales event 

Spices Chef: Stand no 21
Info: https://www.vegexmas.fi/
Paikka/Place: Kulttuuritehdas Korjaamo, Helsinki
Aika/Date & Time: 17.-18.12.2022, 10am - 18pm
Free entry / Ilmainen sisäänpääsy!⁠ ⁠Welcome - Tervetuloa 😍


Mitä tuotteita tarjoamme VegeXmasissa?/
What products we offer at VegeXmas?

Vegaanikeittiön perussetti lahjapakkaus / Meat-alternative vegan kitchen essential set in a gift packet

Vegan bouillon powder collection in bioplastic cans. Contains: 4 meat-alternative flavours (meat / chicken / fish / vegetable)
Liha-, kala-, kana ja kasviaromit ovat vegaanisia, gluteenittomia, fodmap-yhteesopivia, hiivattomia liemijauheita, joita voi ripotella suotaan nesteeseen. Jauheet eivät sis'llä natriumglutamaattia eivätkä väriaineita. Pakkaukset ovat biomuovia.
Mikä tekee vegaaniset-liemijauheet erilaisen?
Useimmat markkinoilla olevista lihaa korvaavista elintarvikkeista myydään valmisruokatuotteina, jotka ovat käteviä, mutta hintavia. Oletko kotioloissa kokeillut tehdä terveellisiä ja edullisia aterioita kasviproteiineista, esimerkiksi burgereita, makkaroita tai pasta- ja nuudeliannoksia? Ehkä huomasit, että tarvitsisit hieman vinkkejä ja ideoita vegaaniruokien maustamiseen.
Spices Chefin vegaaniset liemijauheet ovat kotikokin keittiömestarilaatuinen ratkaisu maustamiseen. Liemijauheita on saatavana kana-, liha-, kala- tai kasvismakuisena. Spices Chefin monipuolisesta luomuyrttien ja -mausteiden valikoimasta löydät juuri omaan makuusi sopivat vaihtoehdot. Maustesekoituksissamme käytämme myös villiyrttejä tuomassa luonnollista makua ruoanlaittoon.
Lisää tietoa tuotteista:: https://spiceschef.bio/collections/all-products/vegaani-vegan
What makes Spices Chef's organic vegan bouillon powders different?

Most of meat-alternative foods in the market are sold as ready-to-eat products. These offerings are convenient but comes with a cost. Have you ever tried making your own healthy and affordable versions of plant-protein burgers, sausages, or pasta or noodle dishes in your home kitchen? If you have, perhaps you needed some help with flavouring your vegan dishes.
Spices Chef offers a range of vegan meat-alternative bouillon powders. These powders can give your home-made vegan dishes the flavour of chicken, meat, fish, or vegetarian. To adjust to your personal tastes, you may find our chef-quality organic herbs and spices, local food blends, very useful.
 To know more about Spices Chef products, visit www.spiceschef.bio 
#spiceschef #vegexmas #vegexmas2022 #vegetapahtumat #korjaamohki