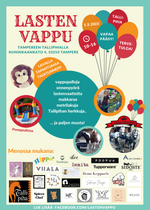 Lasten Vappu, Tallipiha, Tampere 1.5.2023⁠
Spices Chef haluaa kiittää lapsia ja perheitä, jotka vierailivat osastollamme 🌱😍. Spices Chef haluaa myös kiittää tapahtuman järjestäjiä 🌱😍.⁠
⁠
Kiitos Tallipiha/Lasten Vappu tiimi - järjestitte tapahtuman hyvin.⁠
⁠
------⁠
Spices Chef would like to thank kids and families who visited our stand 😍. Spices Chef also wants to thank organizers of the event 😍⁠
⁠
Thank you Tallipiha team - you organized the event well.⁠
⁠

------------
Spices Chef osallistuu Lasten Vappu -tapahtumaan Tampereen Tallipihalla 1.5.2023 🎈🎈🎈🥰

Paikka: Kuninkaankatu 4, Tampere.
Aikataulu: Klo 10-16:00

Lisätietoja: https://www.facebook.com/lastenvappu

Tervetuloa! 🎈🥰
-------------


Welcome to Children's Vappu event at Tampere Tallipiha on 1.5.2023 🎈🎈🎈🥰

Address: Kuninkaankatu 4, Tampere.
Time: 10-16:00

For more information: https://www.facebook.com/lastenvappu
Welcome! 🎈🥰

#spiceschef #vappu #lastenvappu #tallipiha #tallipihakahvila
#luomu #lähiruoka #vegan #pakastekuivattu #asumisenkestävätulevaisuus #asuminen #rakentaminen #remontointi #puustelli_miinus  #sustainabilitymatters #kotikeittiö⁠ #mycolourfulkitchen⁠ #mycolourfulinterior #mycolorfulhome  #homekitchen #sustainability