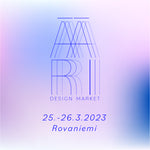 Kiitos ÄÄRI Design Market -tapahtuman kävijöille ja järjestäjille. Spices Chef -tiimi nautti tapahtumasta!
Tämä oli Spices Chefin ensimmäinen markkinointitapahtuma Rovaniemellä. Se oli hyvä kokemus.
Kiitos Kate & Paula - järjestitte tapahtuman hyvin.
ÄÄRI Design Market: Spices Chef would like to thank visitors and organisers of the ÄÄRI 2023.
This was first marketing event in Rovaniemi of Spices Chef. It was a good experience.
Thank you Kate & Paula - you organized the event well.
-----------------------
Tervetuloa Arctic Design Expo 2023 ÄÄRI design market -tapahtumaan Rovaniemelle (la 25.3. ja su 26.3.2023) | Spices Chef on mukana 💚
Paikka/Place: Rovaniemen Kaupungintalo
Tapahtuma on maksuton ja avoinna yleisölle lauantaina ja sunnuntaina klo 10-17.