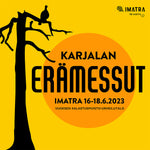 Spices Chef osallistuu Karajlan Erämessut -tapahtumaan Imatralla 16.-8.6.2023.
Osasto nro: 31

Ideana on esitellä luomu villiruokatuotteita, jotka on kehitetty marjoista, yrteistä, sienistä ja mausteista. Spices Chef on osallistunut Pohjois-Suomen Erämessuille ja Pirkanmaan Erämessuille (2023). Spices Chef oli osallistunut Villiruoka-festivaaleille Ilomantsissa 2018, 2019, jossa esiteltiin tuotteiden alkuvaiheita. Olemme kehittyneet eteenpäin, ja haluamme esitellä ja saada palautetta Erämessuilta.
MESSU INFO:

Paikka:  Vuoksen Kalastuspuisto ja Imatran Urheilutalo
Kotipolku 2, 55120 IMATRA

Messut ovat avoinna:
Pe 16.6. 10–17
La 17.6. 10–17
Su 18.6. 10–17

Lisätietoja: https://karjalaneramessut.com

Tervetuloa! 🥰
-------------

Spices Chef will participate in the Karjalan Erämessut event in Imatra 16.-18.6.2023.

Stand no: 31
Idea is to present luomu wild food products, which are developed from berries, herbs, mushrooms, and spices.  
Spices Chef participated in Pohjois Suomen Erämessut and in Pirkanman Erämessut in 2023.
Spices Chef had taken part in Villiruoka festival in Ilomantsi in 2018, 2019, where early stages of the products were presented. We have developed further, and wish to present and get feedback from Erämessut.
EXHIBITION INFO:

Address:
Vuoksen Kalastuspuisto ja Imatran Urheilutalo
Kotipolku 2, 55120 IMATRA
Timetable:
Friday 16.6. 10–17
Saturday 17.6. 10–17
Susunday 18.6. 10–17

For more information: https://karjalaneramessut.com

Welcome! 🥰

#spiceschef
#karajalanerämessut
#erämessut
#imatra
#lapset
#perheet
#luonto
#oppiminen
#luomu
#lähiruoka
#vegan
#pakastekuivattu
#asumisenkestävätulevaisuus
#asuminen
#rakentaminen
#remontointi  
#sustainabilitymatters
#kotikeittiö⁠
#mycolourfulkitchen⁠
#mycolourfulinterior
#mycolorfulhome 
#homekitchen
#sustainability
#perhetapahtuma