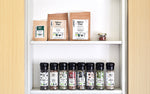 Pippurimyllyn ääni / The Sound of Pepper Mill Experience series

We strongly believe our pepper mill has a unique grinding sound. It's different than weak milling sounds from most other mills in the market. You are welcome to experience it. Please watch first milling instructions from Mia in the #pilot video first :)
The unique sound is coming from rhythmically milling the ingredients inside. A bit like kitchen music. Like a sharp knife slicing than a weak knife struggling and tearing more than slicing ...
If you would like to be featured in pippurimyllyn ääni series, please do share your video with us.
Enjoy watching pippurimyllyn ääni series videos in our YouTube Channel Spices Chef TV or below:
Pippurimyllyn ääni / The Sound of Pepper Mill - Experience #pilot
Mia explains how to use Spices Chef's biomills! Mia kertoo kuinka käyttää Spices Chefin biomyllyä!
Puolukka & Chili:


Pippurimyllyn ääni / The Sound of Pepper Mill - Experience #13
Highland mustapippuri:
Pippurimyllyn ääni / The Sound of Pepper Mill - Experience #12
Currymylly
Pippurimyllyn ääni / The Sound of Pepper Mill - Experience #11

Savusuolamylly Pyökinmakuinen:

Pippurimyllyn ääni / The Sound of Pepper Mill - Experience #10
Kantarelli & Tellicherry mustapippuri:
Pippurimyllyn ääni / The Sound of Pepper Mill - Experience #8
Puolukka & Paprika:
Pippurimyllyn ääni / The Sound of Pepper Mill - Experience #7

Puolukka & Chili:

Pippurimyllyn ääni / The Sound of Pepper Mill - Experience #6

Puolukka & Chili:

Pippurimyllyn ääni / The Sound of Pepper Mill - Experience #5

Currymylly:

Pippurimyllyn ääni / The Sound of Pepper Mill - Experience #4

Valkopippuri & Savusuolamylly:

Pippurimyllyn ääni / The Sound of Pepper Mill - Experience #3
Viherpippuri & Kala Namak mylly:
Pippurimyllyn ääni / The Sound of Pepper Mill - Experience #2
Malabar valkopippuri:
Pippurimyllyn ääni / The Sound of Pepper Mill - Experience #1
Valkopippuri & Savusuolamylly: