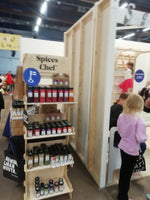 Lapsimessut 2023⁠
Spices Chef haluaa kiittää lapsia ja perheitä, jotka vierailivat osastollamme 🌱😍. Spices Chef haluaa myös kiittää messujen järjestäjiä 🌱😍.⁠ ⁠
Kiitos Messukesus tiimi - järjestitte tapahtuman hyvin.⁠ ⁠
------⁠
Spices Chef would like to thank kids and families who visited our stand 😍. Spices Chef also wants to thank organizers of the fair 😍⁠ ⁠
Thank you Messukesus team - you organized the event well.⁠ ⁠
#spiceschef #lapsimessut #lapsi #äiti #isä #lastenruoka #pakastekuivattu #mansikka #vadelma #mustikka #karpalo #puolukka #perhe #lapsille #lapsiperhe #lastenkesä #vanhemmuus #perhearki #vanhemmat #luomu #hyvinvointi #messut #kevät #kesä #mökki #koti #helsinki #sustainabilitymatters #sustainability