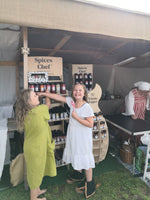 Often there are comparisons between the pros and cons of starting a business vs. taking up a salaried job. Let that debate continue. The key reality of entrepreneurship is that success or failure, or anything in between, it is own responsibility. If one has a vision, and willingness to take responsibility for that vision all the way, it is worth investing in entrepreneurship.
In the picture, there are two new friends - Kaira and Siru. They met each other at Isokyrön 1700 luvun markkinat event a few weeks ago.
Siru is already an entrepreneur. She makes ceramics with household themes. Her products were exhibited for sale at the event in her mom's stand Loona Keramik. One of Siru's best ceramic works was a plate with cat's image in it. Spices Chef admired it and bought it.
Kaira came to Spices Chef's stand pausing a question: "Hmmm... the brand looks familiar. Wonder where have I seen it?". When a kid says that, one can only feel surprise and humility at the same time. Kaira wasn't playing with words. She had tasted freeze-dried strawberries from Spices Chef in Johanna's summer cafe. kaira was the first kid who eloquently gave feedback on freeze dried products. Many kids have given thumbs up and good feedback with a couple of words. But Kaira's eloquence was at the level of a food critique, marketing genius, and pure friendliness. Unafraid and zero inhibitions to talk to an entrepreneur straight!
Kaira was also helping her parents' exhibition stands while enjoying alone herself wandering freely on the event grounds :) Kaira's mom's work can be seen here: Maja Jantar's STUDIO TAIGAR. Kaira's Dad exhibited some of the delicious most artisan hot sauces. Hope these sauces will compete in the upcoming artisan food competition and get recognition!
Spices Chef has met so many entrepreneurs over the years. These experiences gave hope for a bright future in entrepreneurship.
Hard working, selfless and passionate event organizers like Johanna Talso & Team deserve much appreciation for creating a space for small entrepreneurs to get to meet customers as well as get to know other entrepreneurs.
There is hope! Hyvää Yrittäjän päivää !
Best wishes to Siru & Kaira.
P.S:
Loona Keramik offers ceramic courses and wellbeing experiences with clay pottery. Visit the Loona Keramik's facebook page for more information.
Maja Jantar's ceramic works are available in online shop Etsy.
 #spiceschef #loona.keramik #majajantar #1700luvunmarkkinat #suomenyrittäjät