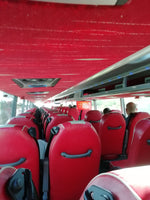 Are you planning to visit the Housing Fair in Loviisa using public transport? Here are some simple travel tips to help you:
The Housing Fair/Asuntomessut:
The Housing Fair is an iconic national event that happens in a different city each year in Finland. In 2023, it is held in Loviisa. People from all over Finland and abroad want to visit this unique fair. The fair's history from 1970 to 2015 lists the number of visitors each year. The fair in Tuusula in 2000 had the most visitors ever, with 271,000 people.
Here are some tips to help you get to Loviisa using public transportation.
By train:
There are no direct trains to Loviisa. The closest train station is Helsinki. Train ticket prices can vary a lot, so you might want to check VR Holiday ticket as it can sometimes be cheaper: https://www.vr.fi/junaliput/lomalippu
By bus:
You can find all the buses that go to Loviisa on Matkahuolto's website (https://www.matkahuolto.fi/), including Onnibus (https://www.onnibus.com/).
There are two main bus stops to know about:

The closest stop to the fair is "Loviisa bus station." It's about a 10-minute walk from there to Mannerheiminkatu 19, where the main entrance to the Housing Fair is.
Some long-distance Onnibus services don't come to Loviisa bus station. They stop at a place called "Loviisa (ramppi)" on the highway. In Matkahuolto, this stop is listed as "Loviisa vt 7 L."
The different names of the stops can be confusing. To make it easier, when you buy your ticket, choose Loviisa bus station if it's available. If not, choose Loviisa (ramppi)/Loviisa vt 7 L.
Bus tickets usually cost between about 12€ and 18€ for a one-way trip.
For the return bus, the same information applies. Some buses leave from Loviisa bus station, and some leave from Loviisa (ramppi)/Loviisa vt 7 L.
Shuttle buses from Johtajantie 2 to the Housing Fair entrance:
The distance from Loviisa (ramppi) / Loviisa vt 7 L to the Housing Fair entrance is about 4km, but you don't have to walk the whole way. You can just want to Johtajantie 2, which is less than a kilometer away from Loviisa (ramppi), and take a shuttle bus to the Housing Fair.
The free of cost shuttle buses run frequently between the Housing Fair's car parking lot (Johtajantie 2) and the main entrance of the Fair.
I hope these travel tips have been helpful. Please note that these travel trips are based on traveling experience. For more accurate information about all aspects of the Housing Fair, please check the fair's official website: https://www.asuntomessut.fi/loviisa-2023/saapumisohjeet/
Welcome to the Asuntomessut in Loviisa! Let's make it a big success.

Enjoy the Housing Fair 2023! ❣
#asuntomessut
#asuntomessut2023
#asuntomessutloviisassa
#kuningattarenranta
#bostadsmässan
#bostadsmässan2023
#bostadsmässanilovisa
#drottningstranden
#spiceschef