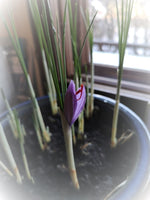 Sahrami Suomessa recreational project's first saffron flower is born on 30.10.2019 :)
This Sahrami Suomessa project was first discussed at Pohjois-Karjalan ProAgria in a seminar on Wild Herbs in Joensuu in January 2019. And there was a genuine interest amongst the participants. ProAgria made a survey about planting sahrami on weather conditions in North and found out that in Sweden somebody had succeeded planting and growing sahrami. We also wanted to try it then.
Sahrami Suomessa recreational project started this fall in August and already it has over 100 growers across Finland. Professional and home gardeners and chefs are planting sahrami both outdoors to the ground and indoors to pots in all over Finland. They post pictures in Sahrami Suomessa Facebook-page. 
First sahrami flower is born in Raisio. Arja Varsamäki shared a picture of that beautiful flower on Facebook on 30.10.2019.
All of You are welcome to join this joy of growing the most expensive spice in the world at your own home :)
Sahrami Suomessa virkistysprojektin ensimmäinen kukka on puhjennut 30.10.2019 :)
Sahramin kasvatuksesta Suomessa keskusteltiin ensimmäisen kerran Pohjois-Karjalan ProAgrian Villiyrtit-seminaarissa Joensuussa tammikuussa 2019. Osallistujien joukossa oli todellista kiinnostusta sahramin kasvattamista kohtaan. ProAgria teetti tutkimuksen, jossa selvitettiin kuinka sahrami kasvaisi täällä näissä sääolosuhteissa. Tutkimuksessa selvisi, että Ruotsissa oli onnistuttu kasvattamaan sahramia myös näillä leveysasteilla. Mekin halusimme kokeilla.
Sahrami Suomessa virkistysprojekti alkoi tänä syksynä elokuussa ja nyt sillä on jo yli sata kotikasvattajaa. Ammattilaispuutarhurit, kotiharrastajat sekä kokit ovat istuttaneet sahramia niin ulos maahan kuin sisätiloihinkin ruukkuihin kaikkialla Suomessa. He jakavat kokemuksiaan ja kuviaan Sahrami Suomessa Facebook-sivulla.
Ensimmäinen kukka on puhjennut Raisiossa. Arja Varsamäki jakoi kuvan tästä kauniista kukasta Facebook-sivulla 30.10.2019.
Kaikki Te olette tervetulleita liittymään mukaan maailman kalleimman mausteen kotikasvattajien iloiseen joukkoon :)